Submitted by Pamela Snow on Fri, 10/09/2015 - 14:46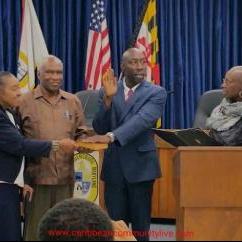 S. Donnie Bridgeman was sworn in yesterday as a council member in the historic town of Bladensburg Maryland. In attendance were his parents, siblings, Maryland State Senator – 47th District Victor R. Ramirez, Jolene Ivey, former Maryland State Delegate and wife of former Prince George's County (Maryland) State's attorney Glenn Ivey and several others.
It was a simple ceremony held at the Bladensburg Town Hall in Maryland. The event yesterday was the culmination of several years of preparation and hard work that resulted in his victory. Bridgeman, no stranger to politics, is the son of Donald Bridgeman, who was born in Grenada, and a former Director of the Office of Human Resources Management (OHRM) in the Prince George's County Government, Maryland who has also served in leadership roles of many Caribbean American organizations in the Diaspora.
In his remarks at the swearing in ceremony, the new council member pledged to continue to work to bridge the gap between police and citizens in the Bladensburg community. He also shared with attendees that he will continue to work to enhance the quality of life for all the community. Bridgeman thanked ceremony attendees and asked for their continued support and prayers for him in his new role.