Submitted by Pamela Snow on Wed, 11/26/2014 - 11:23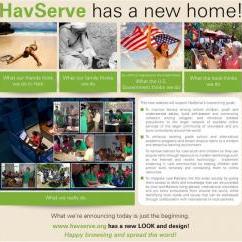 Washington, D.C. November 21, 2014 - HavServe Volunteer Service Network today announced the official re-launch of www.havserve.org, a modern website devoted to raising awareness and understanding of volunteerism in Haiti. Designed by Web Marketing Pros, the new-look website also provides much-needed resources and links to fundraising and events that help support qualifying elementary school children and teachers with significant educational resources and other community-led development support in keeping with the organization's mission.
This new website will support HavServe's overarching goals:
To improve literacy among school children, youth and under-served adults; build self-esteem and community cohesion among villagers; and introduce isolated populations to the larger network of available online services of the larger community of volunteers and pro bono consultants around the world.
To enhance existing grade school and after-school academic programs and attract dropout teens to a modern and attractive learning environment.
To remove barriers for rural youth and children so they can acquire skills through exposure to modern technology such as the Internet and mobile technology; implement e-learning in rural communities by helping children with school work remotely and connecting them to online resources.
To integrate rural Haitians into the wider society by giving them access to skills and knowledge that can be provided by Haitians living abroad, international volunteers and pro bono consultants from around the world, while identifying local needs and issues that can be addressed through collaboration with international or local partners.
HavServe Volunteer Service Network was founded by Carline Brice, a passionate advocate of volunteerism and pro bono services. The HavServe team, led by Carline and Chief Executive Officer, Jewel Bazilio-Bellegarde, is planning on expanding the organization's services throughout Haiti. "HavServe is committed to making a difference through volunteering activities in Haiti and abroad," declares Brice. "With this new website," she continues, "we hope to provide a powerful tool for anyone to be able to serve communities in need in Haiti, and to facilitate meaningful giving for a lasting impact."
About HavServe
The name, HavServe, comes from the understanding that if you have, you serve. If you have time, you serve. If you have compassion, you serve. If you have resources, you serve. If you have knowledge, you serve. HavServe Volunteer Service Network (HavServe) was founded in the immediate aftermath of the devastating earthquake that hit Haiti on January 12, 2010. HavServe is a volunteer-driven not-for-profit 501(c)3 organization that supports community-led development through volunteerism, by empowering villagers through education, training, and delivery of basic services necessary for them to play an ever-increasing role in determining their own future.
What differentiates HavServe from many other non-profit organizations engaged in community development work is its lean organizational structure, supported by a team of 100% pro bono technical experts, thus minimizing overhead and operational costs. Our network of pro bono consultants, local and international volunteers is our greatest asset.
For more information about HavServe Volunteer Service Network (HavServe), visit us online at www.havserve.org/about.